May 3rd

Feyre survived Amarantha's clutches to return to the Spring Court–but at a steep cost. Though she now has the powers of the High Fae, her heart remains human, and it can't forget the terrible deeds she performed to save Tamlin's people.

Nor has Feyre forgotten her bargain with Rhysand, High Lord of the feared Night Court. As Feyre navigates its dark web of politics, passion, and dazzling power, a greater evil looms–and she might be key to stopping it. But only if she can harness her harrowing gifts, heal her fractured soul, and decide how she wishes to shape her future–and the future of a world cleaved in two (goodreads.com). 
I have yet to read the first book in this series, but it has received spectacular reviews so I am looking forward to enjoying it. I hope this book lives up to everyone's expectations. Does anyone know how many books are going to be in this series???
Check out this book on Amazon and Goodreads!
---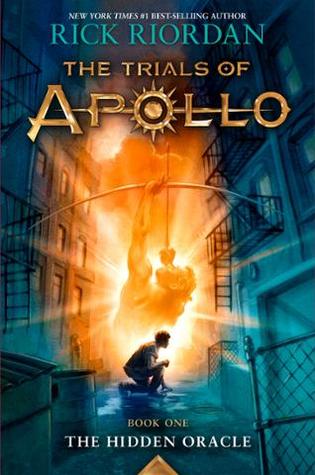 After angering his father Zeus, the god Apollo is cast down from Olympus. Weak and disorientated, he lands in New York City as a regular teenage boy. Now, without his godly powers, the four-thousand-year-old deity must learn to survive in the modern world until he can somehow find a way to regain Zeus's favour.

But Apollo has many enemies – gods, monsters and mortals who would love to see the former Olympian permanently destroyed. Apollo needs help, and he can think of only one place to go . . . an enclave of modern demigods known as Camp Half-Blood (goodreads.com.
I haven't been able to read anything by Riordan yet, but I hope to be able to soon. Not sure where to start or which series is best. I will have to do some research. All I know is that this sounds amazing!
Check out this book on Amazon and Goodreads!
---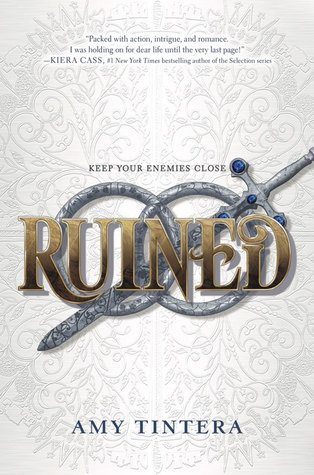 Emelina Flores has nothing. Her home in Ruina has been ravaged by war. She lacks the powers of her fellow Ruined. Worst of all, she witnessed her parents' brutal murders and watched helplessly as her sister, Olivia, was kidnapped.

But because Em has nothing, she has nothing to lose. Driven by a blind desire for revenge, Em sets off on a dangerous journey to the enemy kingdom of Lera. Somewhere within Lera's borders, Em hopes to find Olivia. But in order to find her, Em must infiltrate the royal family.

In a brilliant, elaborate plan of deception and murder, Em marries Prince Casimir, next in line to take Lera's throne. If anyone in Lera discovers Em is not Casimir's true betrothed, Em will be executed on the spot. But it's the only way to salvage Em's kingdom and what is left of her family.

Em is determined to succeed, but the closer she gets to the prince, the more she questions her mission. Em's rage-filled heart begins to soften. But with her life—and her family—on the line, love could be Em's deadliest mistake (goodreads.com). 
This sounds fantastic! I hope it will be as good as it sounds! I might have to grab this from the library once its released!
Check out this book on Amazon and Goodreads!
---
Having survived the end of the world, the Queens follow Hannah back to where it all began: Mage University. A long perilous journey awaits the Rat Queens as they attempt to find out what happened to Hannah's father while battling their own demons (goodreads.com.
This is the next volume in the Rat Queens graphic novel series. I enjoyed the other two volumes A LOT and I hope this one will be just as good! I seriously cannot wait to read this!
Check out this book on Amazon and Goodreads!
---
May 10th

From the small coastal town of Senjan, notorious for its pirates, a young woman sets out to find vengeance for her lost family. That same spring, from the wealthy city-state of Seressa, famous for its canals and lagoon, come two very different people: a young artist traveling to the dangerous east to paint the grand khalif at his request—and possibly to do more—and a fiercely intelligent, angry woman, posing as a doctor's wife, but sent by Seressa as a spy.

The trading ship that carries them is commanded by the accomplished younger son of a merchant family, ambivalent about the life he's been born to live. And farther east a boy trains to become a soldier in the elite infantry of the khalif—to win glory in the war everyone knows is coming.

As these lives entwine, their fates—and those of many others—will hang in the balance, when the khalif sends out his massive army to take the great fortress that is the gateway to the western world (goodreads.com).
I have heard so many good things about Kay's works. I have yet to read anything written by him, but I am eager to read Tigana. I am always looking for good stand-alone fantasy, so I hope this new book will be one of those.
Check out this book on Amazon and Goodreads!
---
May 17th

Vika Andreyeva can summon the snow and turn ash into gold. Nikolai Karimov can see through walls and conjure bridges out of thin air. They are enchanters—the only two in Russia—and with the Ottoman Empire and the Kazakhs threatening, the Tsar needs a powerful enchanter by his side.

And so he initiates the Crown's Game, an ancient duel of magical skill—the greatest test an enchanter will ever know. The victor becomes the Imperial Enchanter and the Tsar's most respected adviser. The defeated is sentenced to death.

Raised on tiny Ovchinin Island her whole life, Vika is eager for the chance to show off her talent in the grand capital of Saint Petersburg. But can she kill another enchanter—even when his magic calls to her like nothing else ever has?

For Nikolai, an orphan, the Crown's Game is the chance of a lifetime. But his deadly opponent is a force to be reckoned with—beautiful, whip smart, imaginative—and he can't stop thinking about her.

And when Pasha, Nikolai's best friend and heir to the throne, also starts to fall for the mysterious enchantress, Nikolai must defeat the girl they both love… or be killed himself.

As long-buried secrets emerge, threatening the future of the empire, it becomes dangerously clear… the Crown's Game is not one to lose (goodreads.com). 
I came across this book on a few different blogs and they all had amazing things to say about this book! Piqued my interest, so I will definitely have to check this out! It sounds fantastic!
 Check out this book on Amazon and Goodreads!
---
May 17th

As Mikey and Brennan's quest to hunt Terrenos's worst war criminals intensifies, their parents make deals with new and dangerous allies to protect their sons, but a mysterious foe debuts, threatening to destroy the Rhodes family forever.
Although I read the comics, so I don't need this volume. I'm just letting you all know its coming out and it is a pretty great series.
Check it out here on Amazon and Goodreads!
---
May 24th

After five hundred years, the Sunken Kingdom has returned, and brought with it a monstrous secret that threatens to destroy every country on the Star.

As an inhuman army gathers on its shores, poised to invade the Immaculate Isles, the members of the Cobalt Company face an ugly choice: abandon their dreams of glory and vengeance to combat a menace from another realm, or pursue their ambitions and hope the Star is still there when the smoke clears (goodreads.com).
I haven't read this first book in this series, but I am eagerly awaiting some feedback for this one. I really want to know if this series is going to be worth reading. Some tend to get worse as they go on, but I hope that isn't the case with this one because it sounds really good!
Check out this book on Amazon and Goodreads!
---
For ages warfare has crippled the continent as minor city states, baronies, and principalities fought in an endless round of hostilities. Only the alliance of the rival Tali and Quon cities could field the resources to mount a hegemony from coast to coast — and thus become known as Quon Tali.

It is a generation since the collapse of this dynasty and regional powers are once more rousing themselves. Into this arena of renewed border wars come two youths to the powerful central city state that is Li Heng. One is named Dorin, and he comes determined to prove himself the most skilled assassin of his age; he is chasing the other youth — a Dal Hon mage who has proven himself annoyingly difficult to kill.

Li Heng has been guided and warded for centuries by the powerful sorceress known as the "Protectress", and she allows no rivals. She and her cabal of five mage servants were enough to repel the Quon Tali Iron Legions — what could two youths hope to accomplish under their stifling rule?

Yet under the new and ambitious King Chulalorn the Third, Itko Kan is on the march from the south. He sends his own assassin servants, the Nightblades, against the city, and there are hints that he also commands inhuman forces out of legend.

While above all, shadows swirl oddly about Li Heng, and monstrous slathering beasts seem to appear from nowhere to run howling through the street. It is a time of chaos and upheaval, and in chaos, as the young Dal Hon mage would say, there is opportunity (goodreads.com).
OMG! A prequel series to the Malazan Empire! I am so there! I cannot wait for this! Once this is all published I am seriously going to have to read the entire series again! Yes, it's THAT good! And the cover! It is gorgeous!!
Check out this book on Amazon and Goodreads!
---
Now you know all the books I am super stoked about for May! Are any of these on your radar? Are there any I should add to mine?? Let me know in the comments!