In anticipation of Christmas I thought I would put a few different buying guides together for some great gift ideas. This is the first of many guides I will be posting in the following weeks. Keep an eye for some more video game guides, as well as one for board games, and fantasy books.
I happened to find a great deal on a Switch on Craigslist not too long after the system was released. It is by far my favorite Nintendo system of all time! In case you don't know, or would rather not put all the research into it, I have made a list of the best things you can buy for the system. These are the things I think you should have upon buying the system. Not all of the games are necessary at first, but everything else I think you should have.
The Nintendo Switch is a great system because it allows you to take it on the go as well as play at home on your TV. Personally, I love handheld mode, while my husband enjoys TV mode. Just depends on how close to the screen you like to be I suppose or where you would prefer to play.
Out of the box all you get is the system with its dock, the cables, and your two joy-cons. Some people tend to go a bit crazy when getting a new system and buy a lot of unnecessary accessories. Hopefully, I can help with that.
Cases
There are two different cases that I highly recommend buying. One is for quick trips with the handheld and the other is for when you want to bring the entire system with you to someone's house. It quite portable so doing this isn't difficult. The Orzly Carry Case is very slim but holds enough if you want to take your handheld on a quick trip. It will hold your joy-cons, quite a few games, as well as a usb charge cable. I have the mario hardshell case which looks identical and works perfectly! There are tons of different cases that are in this design so you don't have to pick this particular one. I really want to get a carry all case so when we move I have a way to safely travel with the system. This Zadii Case looks perfect and I love it because if you want to go to someone's house and play with them this particular case allows both a Pro Controller and the joy con grip so two people can use more comfortable controllers. Other similar cases only allow for one or the other.
Screen Protector
A screen protector is also a must have and something you should put on as soon as you take the system out of the box. This Orzly screen protector will do the job perfectly! It also gets amazing reviews!
Controllers
If you plan on playing the system on your TV, I highly recommend getting one or two of these Pro Controllers. They are super comfortable and durable. We love ours! Only wish we had another one. They are expensive but well worth it.
SD Card
I don't recommend downloading a lot of games from the e-shop unless they are exclusives or not available physically because they take up a lot of room. Some games take up to 32 GB of space so when you can always buy a physical copy. Just in case there are a few you really want to have (Steamworld Dig 2) then you will want to get an SD card. The size just depends on how many games you will download, but I think this 64 GB one will be good enough if you only plan to download smaller indie games. There are other sizes available as well.
Optional Accessories
If you wont have a place to charge your system while on the go, I recommend either a car charger or battery pack. Personally, I use a battery pack because I just had one for my phone and now I use it for the system while on the go. This is only if you have a long drive or plane ride maybe and don't have an outlet. If you have a lot of people to play games with and you need some extra joy con controllers then get those along with a charging stand. The controllers connected to the switch while docked will charge but extra ones will loose battery over time.
Games
These are the must buy games for the system so far. I'll update the list regularly. Don't forgot to check your local used game store for great prices instead of buying all of these new. You can get a lot more that way. Click on the picture for a video review to see if it is something for you. Make sure to also note the recommend ages for the games!
Adventure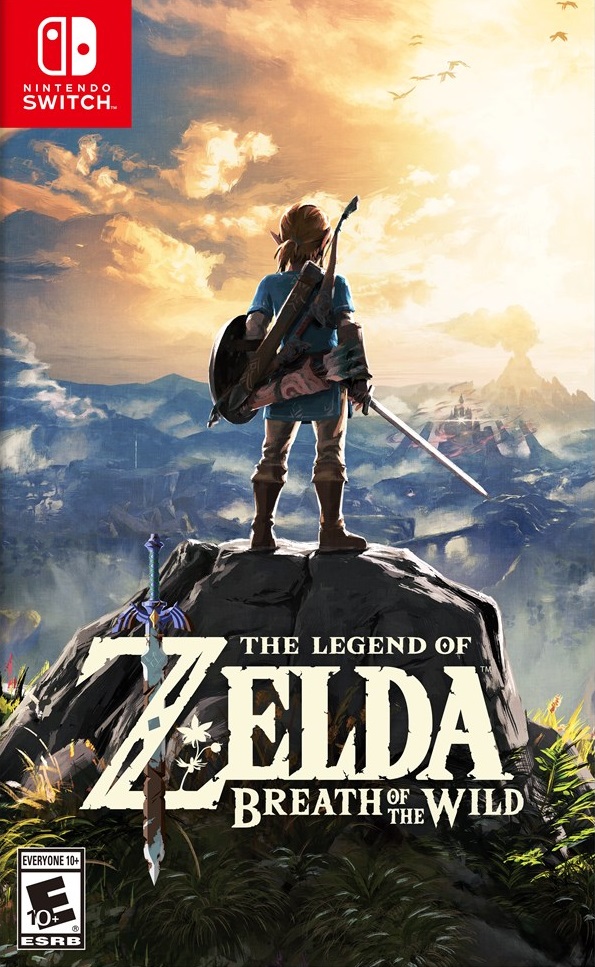 The Legend of Zelda: Breath of the Wild is a 3D action-adventure game in which you play as Link and attempt to save your kingdom of Hyrule from Calamity Gannon. You explore a vast, open world, fight enemies, gain new weapons and armor, and collect hearts to increase your health all in an attempt to prepare for an epic boss battle to save Hyrule. With incredible gameplay, amazing graphics, and an engaging story, this is one of the best games for the Nintendo Switch.
Good For:
Those who love addicting open world exploration games with tons of content. Those who love exploring and finding hidden things and solving numerous puzzles. Those who love long games in which you can sink 100+ hours into.
Bad For:
People who don't like to have a good time. Those that need a more linear game or those that don't like to explore vast worlds and feel overwhelmed.
*My all time favorite game for the Nintendo Switch! I have played over a hundred hours in this game already and though I finished the main campaign, there are still tons of things to do, especially because I have the DLC and extra side quests. The world is huge and there is so much to explore! I can't wait to delve back into this game with the newly released DLC. I never found myself to be too frustrated at any point of the game. The bosses are fairly easy to defeat but some of the shrines/dungeons can be a bit confusing so I just looked up a walk-through if I got stuck. 
Platformers
Super Mario Odyssey is a 3D adventure, platforming game, for ages 10+, in which you explore various worlds to collect several different items in order to advance to the next one. Your ultimate goal is to collect enough moons in each world to make it to Bowser and save Princess Peach.
Good For: 
Those who enjoy exploring different worlds, collecting items, solving puzzles, and defeating enemies and bosses that are not very difficult but still fun. Great starting game and perfect for just about anyone.
Bad For: 
Those who don't like to collect things or do not like platformers. Those who don't like to have an enjoyable gaming experience.
*Super Mario Odyssey is one of my favorite games for the Switch! I have finished the game with over 500 moons and still have a ton more to collect. Essentially, I can go through the entire game again and collect more stuff! So much content and hours upon hours of fun. 
Shovel Knight: Treasure Trove is a fantastic 2D, side scrolling platformer with a retro 8-bit aesthetic, in which you take on the role of a Knight with a shovel. You jump, run, and battle in a quest to find Shovel Knight's lost beloved by taking down the knights of the Order of No Quarter and their leader, The Enchantress. This is the complete Shovel Knight collection including all released expansions! Recommend for ages 10 and older!
Good For: 
Those who enjoy retro 8-bit games, want a bit of a challenge, and enjoy memorable characters and a fantastic story.
Bad For: 
Those who are easily frustrated and don't like attempting things multiple times, or those that don't like retro side scrolling platformers.
*I have played Shovel Knight for the 3Ds and had a lot of fun with it. It is a great game, but can be very frustrating and difficult. I here that this particular version has a co-op mode so maybe that would take out some of the frustration and make it more enjoyable experience. If this ever gets a physical release I would have to get it right away, especially since I haven't played the expansions. I still love the game!
SteamWorld Dig 2 is a 2D platform, adventure game in which you are a miner name Dorthy who is on a mission to find her missing friend. You dig through a vast world, fighting enemies and collecting treasures, and upgrading your equipment in order to venture even further. It is a direct sequel to SteamWorld Dig but that won't keep you from thoroughly enjoying this one.
Good For: 
Those who enjoy exploration through digging games and collecting things, and want to have a great time playing a game with minimal frustrating experiences.  Those who enjoy side-scrolling platformers.
Bad For:
Those who don't like rather short video games or don't enjoy platformers.
*I loved this game! Even though a lot of people complained that it was too short, I didn't find it to be, especially because I was thoroughly exploring everything and that took awhile. There is also some unlockable content if you can 100% finish the game and after 10 hours I'm only around 50%, so I have a lot of game left to play. There were only a few moments in which I became frustrated, but after a couple attempts I was able to get through the particular part. It is such a cute, interesting style with great gameplay. It's definitely a must play! It is only available digitally and I recommend waiting for a sale in case you will be upset because you finished it too early and won't feel as if you got your money's worth. 
Puzzle
 PuyoPuyo Tetris is a puzzle game that combines both Tetris and PuyoPuyo so if you like either of those puzzle games, then you will love this one. It's a great puzzle game to play with friends!
Good For:
Those that like puzzle games, Tetris, or PuyoPuyo. Those that have a lot of friends to play against.
Bad For:
Those that don't like puzzle games or don't have enough friends to play with.
*I extensivelly played the demo for this game and really liked it but of coruse my husband doesn't like these puzzle games so I have no one to play it with me and that is kind of the draw to this game. Maybe if it sells really cheap at some point, I will pick it up to play myself, but I won't buy it at full price. Otherwise, I have heard it is a fantastic puzzle game and from what I have played of it, I agree. 
Racing
MarioKart 8 Deluxe is a fantastic racing game for the Switch, especially if you have a lot of friends to play it with, but even if you don't then online play is good too. Essentially, you race around some uniquely designed tracks, collect power-ups, and use them as best you can to get an advantage in the race.
Good For: 
Those that love racing games and like to have a good time. Those that have a lot of friends to play the game with because it's more fun to race locally against friends.
Bad For:
Those that don't like Mariokart games or people that don't have a lot of friends to play with as it can get stale fairly quickly otherwise.
* I have always loved the MarioKart games and being able to play it online is great, but it still is more fun to play it locally with friends, in my opinion. I just have great memories playing these games this way. I do wish they would have some sort of story mode put into these games by now and possibly have some sort of upgrades to the karts that actually make more of a difference in how you race. Otherwise, it's a great multiplayer game.
RPG
Skyrim is an open world role playing game (RPG) in which your main quest is to defeat Alduin the World-Eater, a dragon who will destroy the world. There are hundreds of hours of content in the game and a vast world to explore. You fight enemies to gain experience and level of up your character while searching for the best armor and weapons. It may have come out in 2011 but it is one of the best RPGs and having it mobile on the Switch is the best way to play!
Good For:
Those who enjoy open world exploration. Those who like to role play and level up their character. Good for those who like to have a fun, addicting gaming experience.
Bad For:
Those who don't like exploring vast worlds or don't like RPGs. Those who don't like to spend a lot of time in one particular game.
*I played this a couple of years after it came out for the Xbox 360. It was one of the most enjoyable gaming experiences I have ever had. It is so much fun and now that there is a portable version of it, I need to have it! I have already bought a couple copies of the game for different systems, so I will have to wait for a price drop, but I can't wait to play the game again! 
Shooter
Splatoon 2 is a multiplayer paint splattering shooting game in which you play on teams of 4 vs. 4 and try to cover as much territory in your paint color as possible. There are more game modes available as well, which you can play after reaching level 10.
Good For:
Those that like friendlier shooting games and enjoy having a good time. Those with a lot of friends to play with to make the experience more enjoyable.
Bad For: 
Those that don't like shooters. Those who don't have a lot of friends to play games with or don't a have reliable online connection. Those that don't enjoy competitive games.
The Binding of Isacc is a randomly generated action RPG shooter in which you explore dungeons, fight enemies, and defeat bosses. It is brutally difficult, but super addicting and loads of fun. You never have to play the same game twice, so it has tons of replay value! This game is for mature audiences only (18+) due to the serious graphic content.
Good For: 
Those that like hardcore shooting games. Those that don't mind being frustrated and enjoy doing things repeatedly. Those that like replaying games.
Bad For:
Those easily frustrated. Those that prefer a less difficult gaming experience. Those under age 18.
*I put this on my recommendations list because of all the positive reviews it has received. Unfortunately, I haven't been able to play it but hope to nab a cheap copy at some point. It's definitely on my list!
Simulation
Stardew Valley is a farm simulation game in which you own a farm and grow and sell crops; however, in this particular game there is a lot more too it than that. You can even explore a huge cave to fight enemies, and gather precious minerals that you can sell or use in crafting. There is a ton of stuff to do in this game and you can easily sink a hundred or more hours into it.
Good For:
Those that enjoy farming simulation games. Those that like Farmville but want something more substantial and less annoying to play. Those that want a fun, enjoyable, and casual gaming experience.
Bad For:
Those that want more of a challenging game to play. Those that don't like simulation games.
*I played this for a few hours on my computer but when i found out it was coming to the Switch, I knew that is how I wanted to play it. I had a lot of fun with it and can't wait to get back into it. Hopefully, a physical edition will be released for the Switch since I don't like downloading games. I highly recommend this game if you love farming simulation. I used to play Farmville on Facebook but that game is shit compared to this! It is super addicting! 
Tactical RPG
Mario & Rabbids Kingdom Battle is a turn based tactical RPG in which each member of your team is allowed to move a designated number of spaces towards the enemy on a square grid. You are then able to attack an opponent if you are in range. This would be a great introduction to tactical RPs for anyone 10 and older.
Good For:
Those that love tactical RPGs or for those that want to learn how to play them. Those that enjoy the Mario or Rabbids franchise. Those looking to play a fun, silly game.
Bad For:
Those that don't like Mario or Rabbids. Those that hate tactical RPGs or want something with more challenge.
*Again, I put this on my recommendation list, despite having played it yet, though it is on my list. It has received fantastic reviews and I highly look forward to playing it, especially because I love both Mario and tactical RPGs. 
Disgaea 5 Complete is another tactical RPG that is a bit more difficult than the previously mentioned Mario & Rabbids. There is a lot more going on in this game and tons of different weapons, abilities, and upgrades. It is set in the demonic Netherworld but is known for its humor rather than being too serious.
Good For: 
Those that want a more difficult and involved tactical RPG. Those that like slapstick humor.
Bad For:
Those that like more simple tactical RPGs or don't like these types of games. Those that don't like slapstick humor or playing games for 40+ hours. Those that don't like more complicated and complex tactical RPGs.
*I just got this for my birthday and can't wait to play it! I have played a bit on the demo but really want to explore more of this game!
These are my current recommendations for the switch. I will update this as often as I can. If you need help narrowing down some game ideas just let me know. I'll ask you some questions and help you find the perfect games!